When it was raining, he stuck his hand out of the window,and thought of tears.The voices under his bed had been whispering for quite some time now.Will you give us your head now? Do you want to make love to our women, whilst we are away, playing soccer with your skull?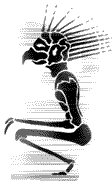 Es ist wunderbar, zu sein, zu sein
So wunderbar, zu sein.
Die Wolken sind blau,
und ich bin kampfbereit, die Sonne, zu gewinnen.