Electro-acoustic Music
by
Johannes Bergmark
Work commentaries.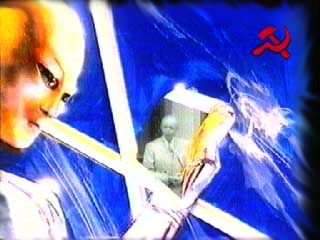 The imprisoned Communist from Outer Space talking to US president Eisenhower.
Communist from Outer Space
for two channels tape, micro moog, voice and live extra-terrestrial.
First performed during the concert "VALBAR med STUDIO 4:S MÄN OCH HANNA".
Fylkingen, election day, Sunday the 20th of September, 1998
[English text will be written later.]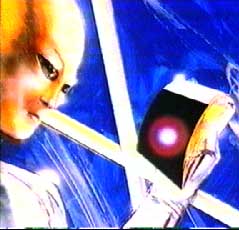 ---
"Mouth-to-mouth-method", 12-channel piece:
This piece consists only of unaltered sounds made by two mouths very close and partly inside each other. In this way, sounds are produced that could not be made by only one mouth. The sound from one mouth is modulated of the other one's mouth cavity, tongue and lips, and sometimes by fingers that tear the cheeks and neck or nails that scratch the teeth. By playing these sounds amplified in loudspeakers surrounding the listener in all directions, I hope it feels like it were inside one or more mouths, chewed, soaked and licked on, in the end maybe totally eaten. If you manage this, you have overcome death and can go on away as an immortal and overcome all dangers and problems. The sounds are made at EMS by me and Unn Fahlstrøm.
The piece could be heard in the "Elektrofonen", a loudspeaker sculpture built for 12-channel EAM-listening outdoors.
---
Saw nonet for 8-channels saw orchestra and live saw soloist, 12'12.
First performance on Fylkingen, the 15th of October 1999 during the concert of the EAM-composition class.
Hal Rammel, the US musician and inventor, introduced me to the musical saw in 1987, and from 1990 on, we got the chance to experience this magic together. In musical saw ensembles, a special acoustic phenomenon easily appears: combination notes. They can be experienced as a confusing disturbance, as if the volume is louder than it actually is, as if the ears are blocked. The sum of two frequenzes create an audible interference, a lower tone that appears in the air.
This became clear in another saw duo, with Catherine Christer Hennix, who explained about this phenomenon which she had specialized in since decades. I have noticed that this phenomenon also easily appears in other ensembles of high-pitched instruments or soprano voices.
In 1994, I recorded a saw quartet on a porta studio, performed it in 1997 with some Norwegian saw players, and in 1998 recorded this octet on eight channels which should make the appearance more easy of the combination notes in the air, preferrably performed with myself live.
It is the same instructions for every voice. The more saws, the better. It starts in a shocking manner and goes on with a "beautiful" section, open for the soloist's improvised cadenza with many techniques - e.g. flagolets, double tones and mouth resonances.
---
Johannes Bergmark: L'Ultima Spiaggia

- about 20 minutes sound poem read live with different voice methods, recorded sound files and text pieces triggered live - sometimes they are seen on a big screen, sometimes heard in the loud speakers. The background sounds are concrete as well as computer generated.
First performance at Fylkingen, the 20th of April 2000 on the EAM-class concert.
[English text will be written later.]
New the 20th of October 2000.
http://www.flashback.net/~bergmark/eamen.html